Step 1: Select checkout with Interac e-Transfer
Please make sure your name registered in the Interac e-Transfer profile of your bank account matches your registered name at Piggy.Cards. Otherwise, the transactions might not be completed.
Step 2: Pay via Interac e-Transfer
After clicking the "Check Out" button at https://piggy.cards/CA/, the website will provide some instructions on how to pay via Interac e-Transfer:
You will have to proceed to your bank's app and pay to the email address "autodeposit@emt.piggycards.com".

Each bank has slightly different Interac e-Transfer interfaces. The typical flow is the following:
After login your online banking, click on "Interac e-Transfer"
Click on "Send Interac e-Transfer"
Add "autodeposit@emt.piggycards.com" as a payee or contact
Put in the correct payment amount
Click the "send" button
Step 3: Receive emails of your order confirmation and digital gift cards.
After the payment is completed, you will receive an email to confirm the order was placed and find your order number immediately.
Shortly after the payment confirmation email, you will receive an e-gift card delivery email to redeem your gift cards (usually within a minute but sometimes it could take up to 5–10 minutes).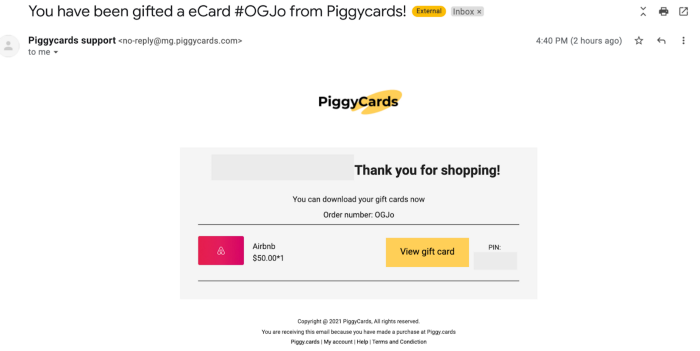 Hope you enjoy your gift cards!
If you have any questions, feel free to reach out to Piggy Cards at support@piggy.cards
If you have more questions, please contact support@piggy.cards